If you fancy taking in some Welsh cinema to get warmed up for your holiday in Wales, then here are ten great must-see Welsh films along with reviews.
Ten Must See Welsh Films
ONLY TWO CAN PLAY (1961, 106min, b/w)
Filmed on location in Swansea, Only Two Can Play is a farce starring Peter Sellers as an anxious, lecherous and very bored Welsh librarian. Married with children, henpecked and living in a gloomy apartment, his life takes a twist when Liz, the attractive wife of a local councillor sets her sights on him. Black comedy ensues as he and Liz try to consummate their affair in this close knit Welsh valleys town. The film is an adaption of the Kingsley Amis novel, That Uncertain Feeling.
ONLY TWO CAN PLAY (1961, 106min, b/w)
HOUSE OF AMERICA (1996, 96min)
In an isolated prairie-style house built from corrugated iron, the Lewis family - mad mam, teenage dreamers Sid and Gwenny, and their down-to-earth young brother Boyo struggle to cope with the void left by their absent husband/father who 15 years before traded the green green grass of South Wales for the wide open spaces of America. Boyo is powerless to stop his siblings, Sid and Gwenny, from losing themselves in a drink and drug fuelled fantasy of the American Dream derived from Kerouac's On the Road. The UK premier of this film was in Pontardawe Arts Centre.
HOUSE OF AMERICA (1996, 96min)
TWIN TOWN (1997, 99min)
Originally billed as Wales's answer to Trainspotting, Twin Town has become a cult classic in its own right. Bryn Cartwright, a local roofing contractor and Rugby Club Chairman refuses to pay compensation to fatty Lewis, a man working for him when he falls off a ladder. Fatty's twin sons set out to get revenge for their father. With a history of daily joyriding, solvent abuse and petty vandalism, the twins wreak havoc in their hometown of Swansea in this urban black comedy. The film helped to propel Rhys Ifans, who plays the eldest twin, to international film stardom.
TWIN TOWN (1997, 99min)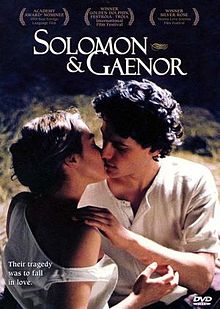 SOLOMON AND GAENOR (1998, 104min)
This film was nominated for an Oscar in 1999 for Best Foreign Language Film. It is set against a backdrop of racial tension and industrial unrest in the Welsh Valleys of 1911, Solomon (Ioan Guffudd) and Gaenor (Nia Roberts) tells the moving and passionate story of illicit love between a Welsh girl and a Jewish boy. Gaenor, born into a family of strict chapel-goers, falls for Solomon, a young door-to-door salesman, who conceals his Jewish identity from Gaenor and her family. The couple, from similar yet very distinctive worlds, fall helplessly in love. The odds are against them, however, as the outraged community in which they live conspires to destroy their fragile happiness.
SOLOMON AND GAENOR (1998, 104min)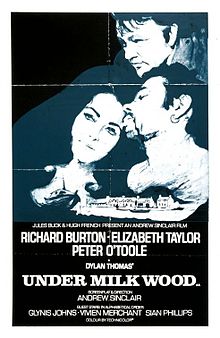 UNDER MILK WOOD (1971, 88min)
This adaptation of Dylan Thomas's famous radio play stars local boy Richard Burton alongside Elizabeth Taylor and Peter O'Toole. The storyteller invites the audience to listen in on the dreams of the fictional small Welsh village of Llareggub (the name is "bugger all" spelt backwards, but appeared in print as Llaregyb so as not to offend), and their innermost thoughts and dreams are laid bare to us. There is Mrs. Ogmore-Pritchard, relentlessly bossing her two dead husbands; Captain Cat reliving his seafaring times; the two Mrs. Dai Breads; Organ Morgan, obsessed with his music; Polly Garter pining for her dead lover. Later, the town wakes and we see them go about their daily business, aware of how their feelings affect whatever they do.
UNDER MILK WOOD (1971, 88min)
HOW GREEN WAS MY VALLEY (1941, 118min, b/w)
A masterpiece of sentimental human drama by the legendary director John Ford, How Green Was My Valley is the melodramatic and nostalgic story of a close-knit, hard-working Welsh coal-mining family (the Morgans) at the turn of the century as Wales shifts from a pastoral to an industrialised society. The story, based on Richard Llewellyn's best-selling novel, is told in flashback form by Huw Morgan, an old man who has decided to leave the valley forever. Huw is the youngest in a family of 6 brothers and 1 sister and the film centers on his struggle toward manhood amid conflicting demands of faith, economics, education and family loyalty. The remarkable outdoor set, with a row of houses sloping uphill toward the mine colliery, was convincingly realistic, although it was part of a set built in Southern California (the hills of Malibu). Originally, 20th Century Fox had planned for the film to be a four-hour Technicolor epic, akin to Gone With the Wind (1939), filmed on location in South Wales, but the war made that an impossibility. The Welsh tone of the film, from director Ford's recollections, is buoyed by Welsh singers (vocalising as themselves) performing much of the choral work.
HOW GREEN WAS MY VALLEY (1941, 118min, b/w)
HEDD WYN (1992, 110mins)
Hedd Wyn received an Oscar nomination in 1994 for best foreign-language film. It tells the true story of a young poet living in the North Wales countryside who competes for the most coveted prize of all in Welsh Poetry - that of the chair of the National Eisteddfod, a tradition dating back a hundred years. Before the winner is announced Hedd Wyn gets sent to fight with the English in the trenches of the First World War. A month later, on the first day of the Battle of Passchendaele, he was mortally wounded, but his poem survived and he was awarded the prize he had always coveted.
HEDD WYN (1992, 110mins)
HUMAN TRAFFIC (1999, 95mins)
Human Traffic is to Cardiff what Twin Town is to Swansea - an offbeat take on urban life in 1990s South Wales. The story follows half a dozen Cardiff mates who stick to dead end jobs for the promise of weekend clubbing. The film covers one lost weekend - from the Ecstasy fuelled rush of Friday evening to the alcohol fuelled come down and Sunday afternoon hangover. Jip calls himself a sexual paranoid, afraid he's impotent. Lulu, Jip's mate, doesn't find much to fancy in men. Nina hates her job at a fast food joint, and her man, Koop, who dreams of being a great hip-hop d.j., is prone to fits of un-provoked jealousy. The fifth is Moff, whose family is down on his behavior.
HUMAN TRAFFIC (1999, 95mins)
THE ENGLISHMAN WHO WENT UP A HILL AND CAME DOWN A MOUNTAIN (1995, 95mins)
The Englishman Who Went Up a Hill But Came Down a Mountain is a 1995 movie written by Ivor Monger, directed by Christopher Monger and starring Hugh Grant ("Reginald Anson"), Ian McNeice ("George Garrad"), Tara Fitzgerald ("Betty"), Colm Meaney ("Morgan the Goat") and Kenneth Griffith ("Reverend Robert Jones"). The movie is set in 1917 (with World War I in the background) and revolves around two English cartographers, the pompous Garrad and his junior Anson, who arrive at the fictional Welsh village of Ffynnon Garw to measure what is claimed to be the "first mountain inside of Wales". The locals ared disappointed and furious when they conclude that it is only a hill because it is slightly short of the required 1000 feet. The villagers, aided and abetted by the wily Morgan the Goat and Reverend Jones (who after initially opposing the scheme, grasps its symbolism in restoring the community's war-damaged self-esteem), conspire with Anson to delay the cartographers' departure while they build an earth cairn on top of the hill to make it high enough to be considered a mountain. The movie is based on a story heard by Christopher Monger from his grandfather about the real village of Taff's Well (Ffynnon Taf in Welsh), Cardiff, Wales, UK and its neighbouring Garth Mountain. Due to 20th century urbanisation of the area, it was filmed in the more rural Llanrhaeadr-ym-Mochnant in mid Wales.
THE ENGLISHMAN WHO WENT UP A HILL AND CAME DOWN A MOUNTAIN (1995, 95mins)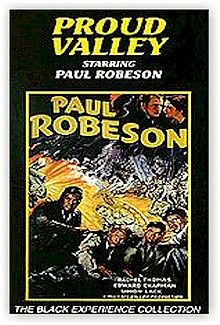 THE PROUD VALLEY (1940, 77mins, b/w)
Proud Valley was a 1940 Ealing Studios film starring Paul Robeson. Filmed on location in the heart of the coal mining region of Wales, Proud Valley documents the hard realities of Welsh coal miners' lives. Robeson's part is based on the real-life adventures of a Black miner from West Virginia who drifts to Wales by way of England, searching for work. His character, David Goliath, initially wins the respect of the very musically oriented Welsh people through his singing (as did Robeson in real life). He shares the hardships of their lives, and becomes a working class hero as he helps to better their working conditions and ultimately, during a horrifying mining accident, sacrifices his life to save fellow miners. In Proud Valley, Robeson depicts a kind of black hero never seen in Hollywood, one who achieves kinship across boundaries of race and nationality. Years later, Robeson would remark that, of all his films, this was his favorite because it showed workers in a positive light. The Welsh actors in the supporting cast, notably Rachel Thomas, Charles Williams, Jack Jones (who also contributed to the script) and Clifford Evans, give the film its authenticity. Rachel Thomas was born in Alltwen, about two miles from our holiday cottages in the Swansea Valley.
THE PROUD VALLEY (1940, 77mins, b/w)