We have reviewed ten great must-read Welsh books written in the English language. These Anglo-Welsh literary classics make perfect holiday reading for any visitor to Wales.  Welsh writers and poets such as Dylan Thomas are famous throughout the literary world.
Unfortunately, literature in the Welsh language is mostly unknown outside Wales.  The language is very different to other European languages with the exception of Breton, with which it shares a common heritage.  From evidence of surviving works by sixth century poets Taliesin and Aneirin, it can claim to have the oldest attested vernacular literature in Europe. (Surviving literature from England is in Old English and thus not in the vernacular: only scholars can read it for understanding; Scottish literature is mainly written in Middle English).
Ten Must Read Welsh Books
A High Wind in Jamaica by Richard Hughes
In this Lord of the Flies at sea – five children are captured by pirates. But in the end is it the pirates who are captive to the whims of the children? Hughes' 1929 imaginative bestseller, getting into the skin of his characters and under the skin of his readers in this vaguely horrific adventure at sea gone wrong. The children are sent 'home' by boat by their parents after their Jamaican house is destroyed in a hurricane – in the company of some Creole friends. They are soon besieged by roguish pirates, who do not live up to the swashbuckling and romantic pirate stereotype but instead are hardy and unsympathetic petty criminals. This is no heroic fairy tale with a happy ending - the eldest brother is accidentally killed, and the remaining children adapt quickly, becoming more ragged, treacherous and selfish little survivors than the pirates themselves. One of the Welsh literati, friend of Dylan Thomas, T.E Lawrence, Yeats and Robert Graves, Hughes was born to Welsh parents in Weybridge, moving to Laugharne in 1934 where he stayed for many years.
A High Wind in Jamaica by Richard Hughes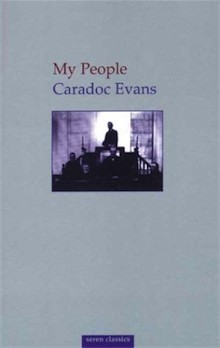 My People by Caradoc Evans
His portrait was slashed in a gallery, his play Taffy opened to catcalls and demonstrators, he was reviled and hated in his home country, where his books were banned. Yet this controversial writer started out as a Carmarthenshire draper's assistant. This work led him to Barry, Cardiff and then London, where he switched to journalism. His first collection of short stories was My People, in 1915 made him notorious. In a literary climate where cloying sentimentality and tales of sweet valleys and quaint hill towns were the norm, Evans sounded the death knell on sympathy, choosing instead to satirise every aspect of Welsh life held dear to its people. He showed Welsh society riddled with meanness and malice. His pen mercilessly ridiculed the idiosyncrasies of Welsh rural life, even, "whisper you me," his own language suffered his slanders, as he rendered the colloquialisms and speech patterns silly, mimicking them in a way his many critics deemed a stab in the back. Many compared My People with Dubliners, yet sadly, Evans' subjects in this case, his people, saw the book and his subsequent work as a betrayal.
My People by Caradoc Evans
Ash on a Young Man's Sleeve by Danny Abse
Were there really trams on Cathedral Road? For this and other revelations about the capital of Wales, read this autobiography by one of Britain's best poets and a Booker nominated author. Lyrical descriptions litter the pages, evoking the streets of Cardiff through the innocent eyes of a young boy growing up. A classic memoir of childhood. Abse is a Welsh Jew who grew up in Wales then moved to Golders Green, London, where he became part time poet and full time chest doctor.
Ash on a Young Man's Sleeve by Danny Abse
Border Country by Raymond Williams
The story begins like any other, a man returning home from work to his average London home. Bad news by telephone transports him back to Wales, to a town called Glynmawr, where we discover his father, a railway signalman has suffered a stroke. Questions fly at the author, but the jigsaw pieces only fall into place gradually. This is a moving story of the relationship between a father and son, and the geographical location is a reoccurring theme, signifying and symbolising displacement, and uncertainty, demarking the structures and limits of the relationship and identity for this is a border town. This is Williams' first novel and is part of a border trilogy.
Border Country by Raymond Williams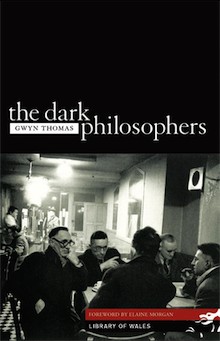 The Dark Philosophers by Gwyn Thomas
Three classic novellas rolled into one dark and angst-ridden tome for your reading pleasure. Thomas' style is undoubtedly readable, and coaxes the reader onward page after page, longing for some chink of light to be shed on the depravity and despondency which overflows these valley town stories. There is huge fat Oscar, the mountain owner, 'hog' to everyone else. A story set in a mountain town, where the terraced lines of houses are grim and poverty stricken, and Oscar overlooks them from his mountain coal tip, delighting in keeping them that way. One day, looking for a new feeling, this slovenly caricature of indolence decides to kill one of his worthless poor workers. Oscar's worker, Lewis, the dark and strong young man with few remaining shards of conscience, and we witness his inner battle. Originally published in 1946, all stories show the squalid towns of early twentieth century Wales and the quirky folk who inhabited them with grim humour.
The Dark Philosophers by Gwyn Thomas
How Green Was My Valley by Richard Llewellyn
This is a book of two colours. Green is for mountain and valley and rose for the spectacles worn by the author. There is poverty and there are strikes, but above it all, overlooking its embattled and struggling inhabitants, is the mountain. Forever green and munificent, its splendour is gradually suffocating under slag. Huw is leaving the valley. The slag is pushing against the walls of the indefatigable little terraced house, yet all he can do is reminisce fondly of bygone days. He tells us the story of his life – of his father, the hero, his mother, the saint, and his brothers, all strong, defiant, and always right. It is a tale of coal, sweat and toil. Poetic, lyrical, and yearning, this is a memoir to lost childhood. This is deemed an important book about Wales. Not autobiographical – but set in a fictional town telling a fictional account of a family, it nonetheless gives an insight into the living conditions at the turn of the century, where many lives depended on the black gold beneath their feet. Although tending towards the sugar-sweet, what a place to have lived in. There is the sense of community, with its concomitant loyalty and solidarity. There is the typically large yet close-knit family, who never stray far from the hill. There is the hard work and incessant singing – unofficial choirs form at the drop of a hat and the valley echoes with harmonies. All the side effects of a small community exist – vigilantism, religious fervour, nosy neighbours. And above all there is Huw, constantly invoking the beauty of the valley colours to calm and care for him. Read the book for a beautiful, sentimental, if slightly over-long story of a family and the geography which ties it.
How Green Was My Valley by Richard Llewellyn
THE MABINOGION
Mabinogi is the Welsh word for tale or story. These Celtic folk tales or fairy stories are mined from two books of colours, one called the White Book of Rhydderch, the other the Red book of Hergest. With the subject matter of the stories harking back to the dawn of Celtic literature, the historical significance of these stories, which can officially only be traced back to the origin of the two books, somewhere between the 11th and 13th Century – count as perhaps some of the first examples of mediaeval literature. Particularly of import is that the first five tales are Welsh versions of incidents from the Arthurian canon, and shed light on the Arthurian story. The name Mabinogion comes from the translation of the stories into English, by Lady Charlotte Guest. She guessed at the plural of Mabinogi, although scholars dispute this. However the name stuck, and the 11 stories are now collectively known under no other title. The Mabinogion consist of four connected narratives (called 'the branches') from Pwll, Prince of Dyved, through Math, the Son of Mathonwy. Following these are three additional stories, including the legend of one of the most famous bards of Wales, Taliesin. Essential reading for anyone who seeks a thorough understanding of Celtic lore.
THE MABINOGION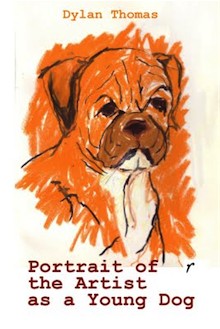 Portrait of the Artist as a Young Dog / Other Stories by Dylan Thomas
Although Wales' most famous poet did not write any full length novels, no list is complete without him. Any of his short story collections are essential reading for a full appreciation of Welsh literature. Two of Thomas' short story collections published during the war proved to be unpopular, since wartime paper rationing meant interest in new literature was down, with people more interested in news. Yet it would not always be the case. Thomas may have lived on the edge of his income for most of his life, yet once he set foot in America, his fortunes began to change, as his notoriety and fame grew. It is a tragic fact, that had he lived, he would have been able to enjoy the financial security which had thus far eluded him. However it was not to be, yet today, he continues to live on as Wales' most famous poet. His most well-known work is Under Milk Wood, a play for voices, set in fictional town Llaregyb (Bugger All backwards) and first aired on BBC radio, later a film starring Richard Burton and Elizabeth Taylor. But his short stories should not be overlooked in favour of his poetry or plays, since each story shares a slice of his poetical talent. His stories display his intrinsically Welsh spirit and unique addiction to words, and merit separate attention. They are an accessible as sympathetic introduction to Wales, her culture and people.
Portrait of the Artist as a Young Dog / Other Stories by Dylan Thomas
One Moonlit Night by Caradog Pritchard
Heading north from coal to slate, we move to North Wales for moonlight, madness and melancholy. Semi-autobiographical and written in Welsh, this was Pritchard's only novel, published in 1961. The scene is set in a slate quarrying village during the first world war. It rattles along at a vaguely alarming pace, like the life of our ten year old hero. We view his exploits, mishaps and relationships through his eyes, and we must decipher what is really happening through what he says and does. Living with his widowed mother, his world slowly unravels and we are shown his loss and devastation. It is a rare insight into the mind of a child, and a deeply personal exploration of emotions.
One Moonlit Night by Caradog Pritchard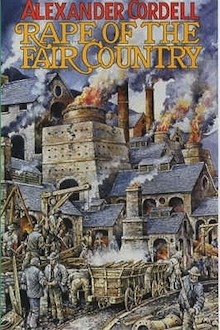 Rape of the Fair Country by Alexander Cordell
Wales' answer to historical drama-queen Catherine Cookson is Alexander Cordell – yet he wasn't even Welsh. Cordell was born in Sri Lanka in 1914, as George Alexander Graber. Although his Grandmother was Welsh, his lifelong love affair with Wales and Welsh history happened only accidentally, when he was sent to Anglesey to recuperate during World War II. He moved with his wife to Abergavenny, and later to North Wales. Cordell granted fictional posterity to the South Wales valleys in his bestseller trilogy about the Mortymer family. Set in the industrial revolution, the stories show the struggle against poverty for normal working class families living with the pollution belched from the coal and iron works. The first book, Rape of the Fair Country begins the story in 1826 in Blaenavon and is followed by The Hosts of Rebecca about the Rebecca riots, set in rural Carmarthenshire. Song of the Earth in the Vale of Neath, Aberdare and Merthyr Tydfil concludes the saga. Yet there was more - in 1985 Cordell responded to fans by penning a prequel to the trilogy: This Proud and Savage Land.
Rape of the Fair Country by Alexander Cordell