Here are some of the pink and red flowers that you may see at Plas Farm. The color psychology of pink is unconditional love and nurturing whilst red is the colour of passion.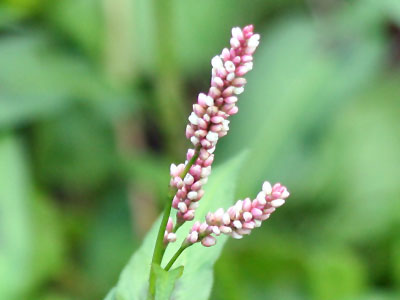 Red Shank (Persicaria maculosa)
Red shank has a liking for farm yards and should you make the short journey from your holiday cottage to the farmyard during August, you should find this wild flower. There are usually dark spots on the leaves of this ground-hugging annual plant. Redshank blooms from June through to October.
Foxglove (Digitalis purpurea)
The foxglove is another familiar sight in the Welsh countryside. The flowers of the Foxglove are tubular, like the fingers of a glove, and its Latin name Digitalis literally means thimble. One single stem can have up to 80 flowers. The whole foxglove plant is poisonous, and yet the drug called 'Digitalin' is extracted from the leaves and used in the treatment of heart disease. Among its Welsh names are menyg-ellyllon (elves' gloves), menyg y llwynog (fox's gloves), bysedd cochion (redfingers) and bysedd y cwn dog's fingers). Foxgloves flower from May to August and then seed prolifically, each plant producing a staggering one to two million seeds, and then it dies. The reason for such a vast number of seeds is to compensate for the large amounts that will be eaten by various creatures. Red Campion is another plant that produces huge quantities of seed for just such the same reason.
Herb Robert (Geranium robertianum)
Herb Robert flowers from May to October and grows in many places at Plas Farm. Each flower has five petals, each with a distinctive fold or wave toward the center of the flower. It is believed that the herb was probably named after the 11th Century French saint Robert, Abbot of Molerne, whose medical skills were legendary. Others believe it to be names after Robert Goodfellow, also known as Robin Hood. Herb Robert is related to the geranium but smells rather harshly in contrast. In North America it is sometimes referred to as "Stinking Bobl" because of this smell!
Great Hairy Willowherb (Epilobium hirsutum)
This attractive wild flower grows along the farm drive in front of the holiday cottages. Also known as Codlins and Cream, Sun-before-the-Father, Cherry Pie, Plum Pudding and Fiddlegrass, this perennial wildflower has rosy-pink flowers with cream centres. Height 3 - 6 ft or so (90 - 180 cm). Hirsutum refers to the plant's woolly appearance. Its name of Codlins and Cream refers to the smell which emanates from the bruised leaves - like codlins, or cooling apples. Epi comes from the Greek "upon" and lobos is Greek for "pod" - due to the flowers standing on top of long, thin, pod-like seed vessels. It is a foodplant of the large Elephant Hawkmoth caterpillar which has four eyespots to deter predators.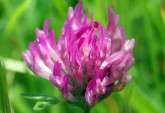 Red Clover (Trifolium pratense)
Red clover grows in the fields around the holiday cottages are is a good food plant for the cows and sheep that live at Plas Farm. Pull out a petal and place its base on the tip of your tongue - it tastes of sweet nectar. Interestingly, the isoflavones are oestrogenic in animals which may ingest large quantities and it has a contraceptive effect on sheep!
Cross-Leaved Heath (Erica tetralix)
This evergreen shrub grows extensively on Mynydd Marchywel mountain behind the self catering holiday cottages and can also be seen growing in the cracks between stones alongside the road that runs from the cottages to the mountain. Heather likes dry acid soil and to survive in the often exposed places where it grows, its leaves are rolled inwards to trap air and prevent moisture loss.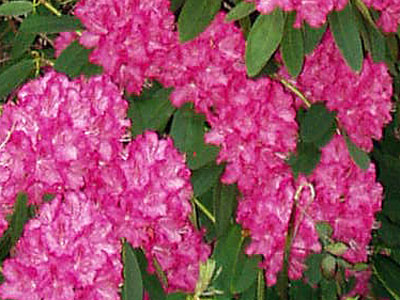 Rhododendron (Rhododendron ponticum)
Rhododendron was introduced to Wales from Armenia and eastern Turkey during the 18th century. Its ability to withstand deep shade made it ideal for use as game cover in woods and it was widely planted. Once established, it is very difficult to eradicate and the deep shade it casts suppresses native tree seedling regeneration. As a result we have embarked on a large clearance program at Plas Farm over the last few years. However, some of the more attractive and unusual varieties have been left for our visitors to enjoy such as the red variety in the gallery which grows on the river bank opposite the self catering holiday cottages.
Red Campion (Silene dioica)
Silenus, the drunken, merry god of the woodlands in Greek mythology, gave his name to Silene dioica, the Red Campion. The second part of its scientific name, dioica, means 'two houses', and refers to the fact that each Red Campion plant has flowers of one sex only, so that two plants are needed to make seed. Female flowers have no stamens, while male flowers have only a small, non-functioning ovary. Red Campion likes acid soil.
Rosebay Willowherb (Epilobium angustifolium)
The striking red flower spikes of the tall rosebay willowherb are a familiar sight on the Welsh landscape, although it was once an uncommon plant in the wild. The plant often colonises burnt ground and is sometimes known as Fireweed. The flowers are followed by masses of fluffy white seeds and the plant's narrow leaves lie in alternate pairs spiraling up stems.
Plas Farm's Pink and Red Flowers
1. Bell heather Erica cinerea
2. Foxglove Digitalis purpurea
3. Great Hairy Willowherb Epilobium hirsutum
4. Herb Robert Geranium robertianum
5. Red Campion Silene dioica
6. Red Clover Trifolium pratense
7. Red Shank Persicaria maculosa
8. Rosebay Willowherb Epilobium angustifolium
9. Scarlet Pimpernel Anagallis arvensis
If you spot any pink or red wild flowers at Plas Farm during your cottage holiday, please let us know and if possible take a photograph of it.  If you are unable to identify the plant, try posting the image on one of the forums on the excellent Wild About Britain.