Holly the Jack Russell lived at Plas Farm in South Wales from 1992 until 2009. She was very popular with guests and this page is a tribute to her.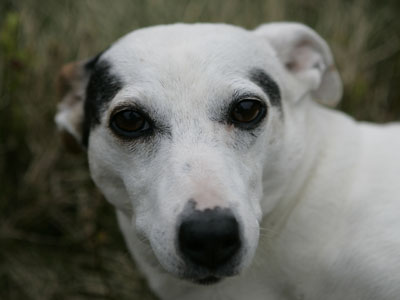 Holly in later life
Holly in later life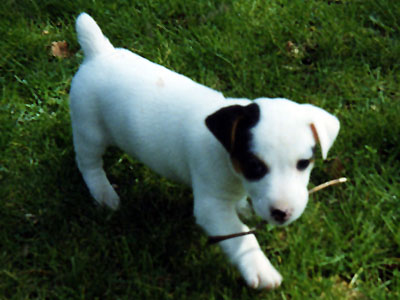 Holly carrying a twig
Holly carrying a twig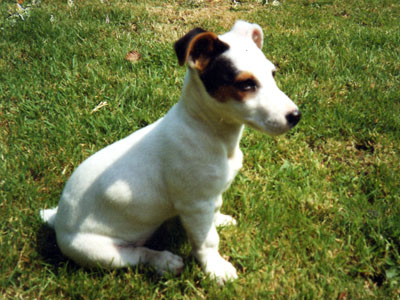 A puppy on the lawn
A puppy on the lawn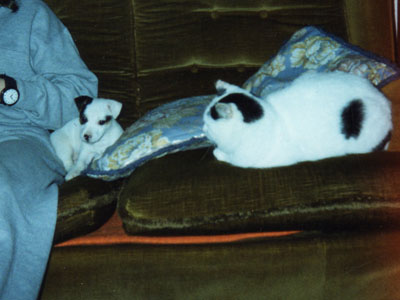 Under close observation
Under close observation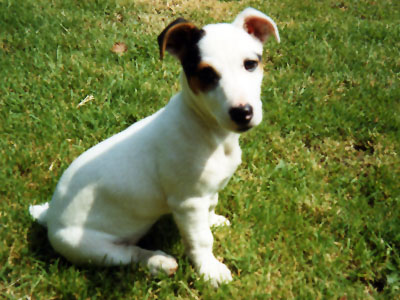 Holly as a pup
Holly as a pup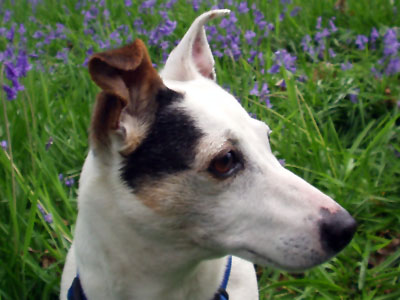 Holly in bluebells
Holly in bluebells
Leaping through the bluebells
Leaping through the bluebells
Patrolling the farm drive
Patrolling the farm drive
Holly Flintstone
Holly Flintstone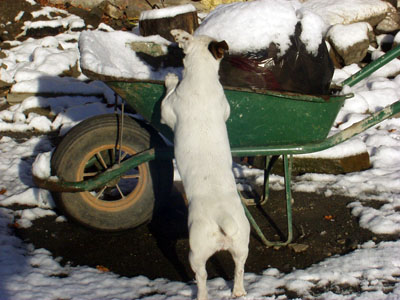 Checking outgoing goods
Checking outgoing goods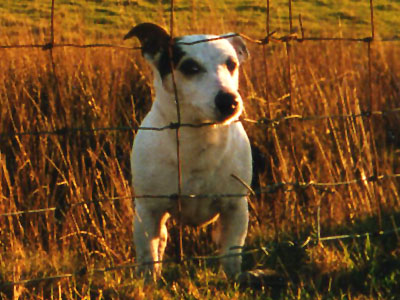 Holly at farm boundary
Holly at farm boundary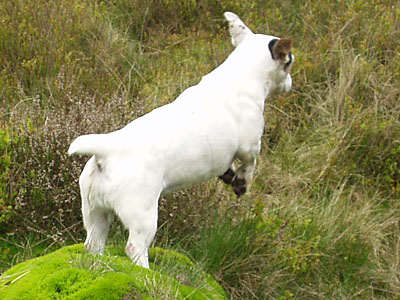 Holly on top of mountain
Holly on top of mountain
Holly being rounded up by a lamb
Holly being rounded up by a lamb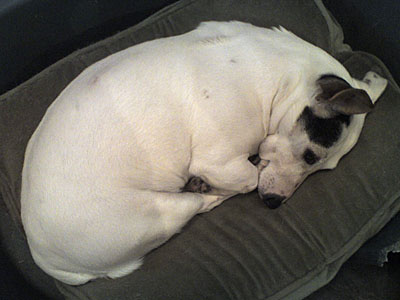 Holly recharging
Holly recharging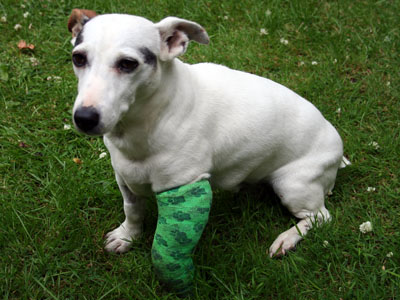 Holly with broken leg
Holly with broken leg
Happy Holly
Happy Holly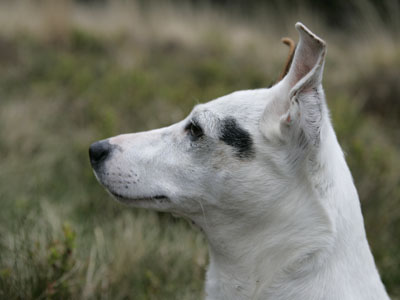 Holly - a portrait
Holly - a portrait
.
Holly – My Life
I was born in 1992, a stone's throw from Swansea Bay, in the labyrinth of terraced houses that blanket the hill behind St Helen's cricket ground. My parents, city dogs through and through, were good honest hard working Jack Russells who were delighted when the Bowen family arrived to lift me from my cardboard box home and take me to the countryside, where I was to be responsible for "barking loudly at any strange noises" in addition to my natural role as an all-round family entertainer.
Within a few days, I was named Holly [after a character in the TV comedy Red Dwarf apparently] and given a small room by the front door of what is now Ty Cerbyd holiday cottage. I expect this was a reward for my good work. They particularly liked it when I pretended to bury a pasta twirl in the corner of the living room. How they laughed as I used my nose to push imaginary soil over the pasta, as I filled the huge imaginary hole I had dug in the carpet. My new room was great. There was even a small rectangular hole in the font door for me to keep track of the smells outside. Much to my annoyance, the postman kept trying to block it with pieces of paper. It took me a while to assert my authority with the other animals at the farm. I remember quite a large cat called Pepper who used to sit a few feet away from me and stare at me as if I was his next meal. Luckily I was well protected by the family until I got big enough to look after myself. He eventually started to respect me and we became firm friends. He was in charge of scaring away mice, and I was in charge of scaring away foxes and any other animal bigger than a badger. He didn't interfere in my affairs and I didn't interfere in his. And that's the way we liked it. We occasionally shared intelligence but only on a need to meow basis.
There followed many happy days at Plas Farm. I would carry out an early morning patrol of the courtyard area and farm drive – check for any foxy messages, reply with interest and then head out into the fields to chase, I mean check, the cattle and sheep. By 1996, my family had decided to stop milking and start looking after holiday makers. The old sheds got converted to holiday cottages over the next few years and my role at Plas Farm became even more important. So important in fact, that I needed extra help with all the entertainment. There is only so many amusing behavioural habits that one Jack Russell can get through in a day and so in 1995, I was mated with a handsome Jack Russell called Dave from the Gower. I was mortified to begin with – imagine the embarrassment – I arrived back in the farmyard after a short training exercise down the river bank with Pepper, only to find I had been set up on a blind date. I wasn't even wearing perfume! Not that it mattered. He was ever such a handsome Jack Russell – a gigolo it transpired who advertised his services in the South Wales Evening Post. Obviously, had I known this at the time, I would not have gone near him. Anyway, £30 worth of his services later, and I was pregnant with Bertie and two other pups.
Bertie was born in December of 1995 and lived at Plas Farm for three years until he mysteriously disappeared one stormy day in October of 1998. We never did find out what became of him. I think he may have left for love. He always was the adventurous type. Nevertheless, he helped me to get through those early transitional years of entertaining holiday makers.
Since 1999 I have coped on my own, although things have been very busy. I have appeared on television, been photographed for a book – I just don't know where to turn next. I have hardly taken a day off. In fact, the only time off I have had was when I broke my leg trying to scare off a car. I don't care what anyone says, I think I taught it a lesson it won't forget. And what of the future? Well I hope to carry on welcoming guests to the holiday cottages at Plas Farm and I doubt that I will ever retire. I am having too much of a good time! And besides, I would find it hard to give up the perks. Having one's tummy stroked so regularly is a heavenly. I should go now – I have got things to do. I hope to meet you one day and remember to bring your pets too!
Woof Woof!
Holly Bowen
2007
The Carpenter's Cottage and The Coach House are both pet-friendly holiday cottages.