December in Wales is a time for good old-fashioned nostalgia and for brand-new resolutions as the old year is nearly spent and a new cycle just ahead. Nature waits. The trees are bare and flocks of birds sweep through the countryside, looking for food and shelter. Weather wise, our Decembers are getting milder, although there is always the possibility of a white Christmas! Check the Welsh holiday weather for December.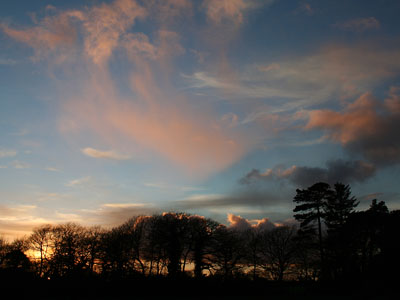 December Twilight at Plas Farm
This picture shows a stunning December sky at Plas Farm, some minutes after sunset. It was taken at the bottom of the farm drive, just outside Bwthyn Y Saer holiday cottage. There are a number of different types of cloud in the sky and varying shades from gray to salmon. The silhouette of the trees stands out - the tall scotch pines and the shorter Welsh oaks.
December Twilight at Plas Farm
Dry Stone Wall and Holly [Ilex acquifolium]
This picture was taken on the grassy slopes that lead to the summit of the mountain, directly behind the holiday cottages. This dry stone wall must be over a hundred years old and is as good as the day it was built. The only difference now is that there are a row of holly trees growing out of it.
Dry Stone Wall and Holly [Ilex acquifolium]
Holly Ilex acquifolium
There are lots of holly trees dotted around the farm and they seem to take it in turns to produce a bumper crop of berries. One of our favourite December pastimes is walking the farm, trying to find which one it is! It is a Christmas tradition to bring Holly into the house. Its sharp edges are symbolic of the crown of thorns worn by Jesus at his crucifixion and the red berries represent blood. Holly is also popular with birds at this time of year, as they love to eat the berries.
Holly Ilex acquifolium
Cascading Mountain Stream
This stream is a tributary of the River Clydach. It enters the river some fifty yards downstream of the holiday cottages and marks the southern boundary of Plas Farm. There are lots of small cascades along the stream and it is great for a spot of river walking! The long boughs that overhang the stream are mainly rhododendron that thrive along its banks. The source of the stream is on the boggy flanks of Mynydd Marchywel
Cascading Mountain Stream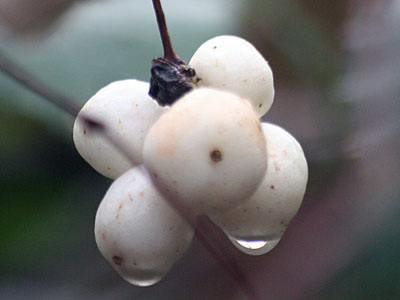 Snowberry Symphoricarpos albus
This deciduous shrub grows along the river bank, upstream of the holiday cottages. Snowberry, a member of the honeysuckle family, was introduced from North America in 1817 and used as cover for game. It produces small pink flowers between June and September followed by fleshy round white berries. The berries are not very attractive to birds but are sometimes eaten by pheasant in very hard winters. As a child I used to feed the odd snowberry to our chickens and they seemed to quite like them! The leaves of the shrub are a food plant for the caterpillars of Death's-head hawk moth.
Snowberry Symphoricarpos albus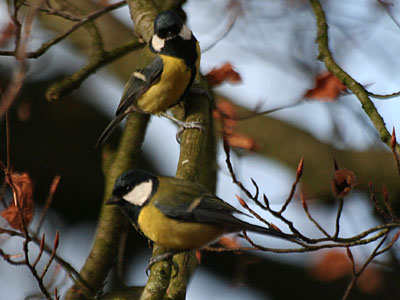 Great Tits [Parus Major] on Beech Tree
The Great Tit is the largest UK tit - green and yellow with a striking glossy black head with white cheeks and a distinctive two-syllable song. It is a woodland bird which has readily adapted to man-made habitats to become a familiar garden visitor. It can be quite aggressive at a bird table, fighting off smaller tits. In winter it joins with blue tits and others to form roaming flocks which scour gardens and countryside for food. This picture was taken on the lawn outside the holiday cottages at Plas Farm - a great place for spotting these gangs of tits during the winter months as tits are particularly fond of beech tree seeds.
Great Tits [Parus Major] on Beech Tree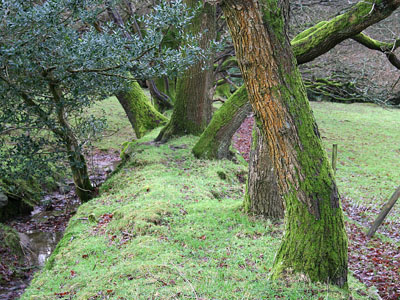 Welsh Oak on Earth Bank
These Welsh oaks have donned their fetching winter coats of green moss and orange lichen. The Atlantic oakwoods of western Britain are one of the world's most important habitats for lichens, mosses and liverworts. Indeed, Britain's warm, damp climate has blessed it with about 10% of the world's known species. Many of these live at Plas Farm, whose upland oakwoods (sometimes referred to as temperate rainforests) are a great place to find many weird and wonderful varieties. At this time of year they are very prominent and give the woods a mystical 'Lord of the Rings' atmosphere. Lichens are very sensitive to air quality and the clean mountain air at Plas Farm is very much to their liking.
Welsh Oak on Earth Bank
December Landscape at Plas Farm
This picture was taken on a fresh and sunny December morning. The summit of Mynydd Marchywel can be seen on the horizon and Welsh Mountain Sheep graze the pastures in the middle distance.
December Landscape at Plas Farm
Robin Erithacus rubecula
The robin is the UK's favourite bird - with its bright red breast it is familiar throughout the year and especially at Christmas! Robins are very prominent during the winter and will come to within a few feet of you - cocky, confident and looking for food. There are over four million pairs in Britain and the great majority hold territory all the year round, doing almost all their feeding, courtship and breeding within a prescribed patch. The robin's association with the Christmas season seems to have started in Victorian times when the livery of the postmen included a bright red jacket. Nicknamed 'robins', their red-breasted namesakes were portrayed on traditional Christmas cards with an envelope in their beak, posting greetings into the letter box, which was invariably covered with snow and a sprig of holly.
Robin Erithacus rubecula