Here are some of the blue and purple flowers that you may see at Plas Farm. Colour psychologists say that purple is the colour of the future, imagination, dreams and spirituality. Blue is the color of trust, peace, loyalty and integrity.
Marsh Woundwort (Stachys palustris)
This wild flower is very attractive to bumblebees although it has little fragrance. It grows in marshy ground at Plas Farm, alongside a pond.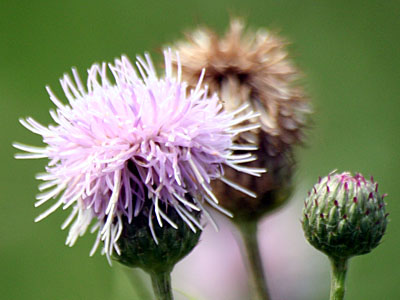 Creeping Thistle (Cirsium arvense)
Creeping thistle is native in cultivated fields, waste places, hedgerows and grassland throughout Wales. The patches at Plas Farm are a great place to spot butterflies, especially Painted Ladies and Peacocks. It is the commonest perennial weed of grassland on beef and sheep farms especially on older sward and in soils with low phosphate or high potassium levels.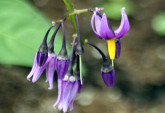 Woody Nightshade (Solanum dulcamara)
Woody Nightshade or Bittersweet is a perennial plant that twines around other plants. It can reach up to 2 metres high. The stalked leaves grow alternate on the stem. They are pointed leaves with an arrow or almost heart-shape and higher up the stem they have little lobes or "wings" at the base. When crushes, the leaves give off a disagreeable smell. The leaves are always arranged to face the light and this plant has the peculiarity that the flowers clusters invariably face a different direction from the leaves. Woody Nightshade is a member of the Nightshade family (Solanaceae). This important plant family supplies us not only with some of our most common foods (Potato, Tomato, Green and Red Peppers, Aubergine) and other plants of economical value (Tobacco), but it also contain some of our most poisonous native plants, such as Henbane (Hyoscyamus niger). Other famous family members are Deadly Nightshade, Thornapple and Mandrake. Woody Nightshade may be seen growing in the Christmas tree patch, on the side of the lane that leads from the holiday cottages to the mountain.
Tufted Vetch (Vicia cracca)
You can expect to see this member of the pea family in bloom in Wales from June until the end of August. It grows in some of the meadows at the top of the farm. Occasionally known as Cow Vetch or Bird Vetch, Tufted Vetch is widely used as a forage crop for cattle, and is beneficial to other plants because, like other leguminous plants, it enriches the soil in which it grows by its nitrogen-fixing properties. Tufted Vetch is also much appreciated by bees and butterflies as a source of nectar.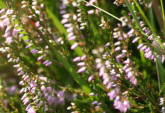 Heather (Calluna vulgaris)
A low-growing shrubby species which is the commonest of all the heather species and which is found in acid and especially peaty soils all across Wales. The habitats include old leached sand dunes, lowland heaths, raised and blanket bogs, woodland and forestry plantations. It occurs from sea level to high up in the mountains and hills and frequently grows covering very large areas as the dominant species. Calluna is distinguished from other heathers (Erica spp.) by having separate petals, instead of a tubular or urn-like flower of fused petals. It is frequently accompanied by Erica spp. and whinberry (Vaccinium myrtillus). To see lots of heather, take a short walk up Mynydd Marchywel from your holiday cottage.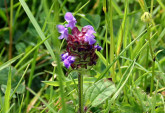 Selfheal (Prunella vulgaris)
This low creeping perennial is a member of the mint family and grows in the fields and on footpaths around the self catering holiday cottages at Plas Farm. The first flowers appear in June, and in some sheltered places self-heal continues flowering until the first frosts of winter arrive. As the common name suggests it has been used internally and externally as a medicinal herb to treat sores and wounds.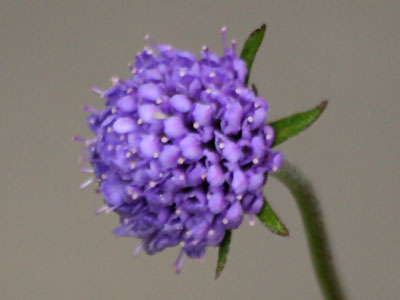 Devil's Bit Scabious Succisa pratensis
The Devil's Bit plant produces a mass of purple flowers on wiry stems. It may be found growing alongside the farm track that crosses the rush pasture on the hill behind the cottages. Very few wildflowers attract more butterflies than the Devil's Bit Scabious which is favoured by the Tortoiseshells, Admirals and bees. According to old European legend, it was so useful to mankind as a tea for coughs and fevers and in ointments for the treatment of skin diseases that the Devil, consumed with anger over the plant's many virtues, bit its root half off, but God allowed it to thrive with a stumpy root anyway. Devil's Bit root is said to put a stop to any evil directed toward you.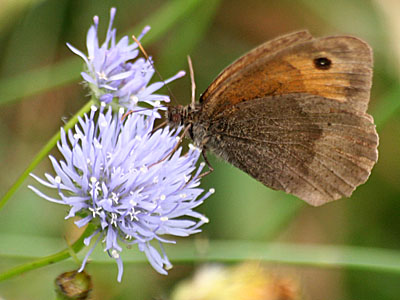 Sheep's-bit (Jasione montana)
A scabious-like plant (sometimes called sheep's-bit scabious) but not related to true scabiouses such as devil's-bit. It grows at the foot of earth banks that form field boundaries near the top of the farm, a fifteen minute walk from your holiday cottage. The narrow-lobed, starry flowers of sheep's bit mass in globes 2.5 cm (1 inch) in diameter in which the outside flower circles open first. The short, thick anthers are united at the base. The first flowers appear in May and blooming continues into September. Sheepsbit scabious is usually at its best from late June until early August.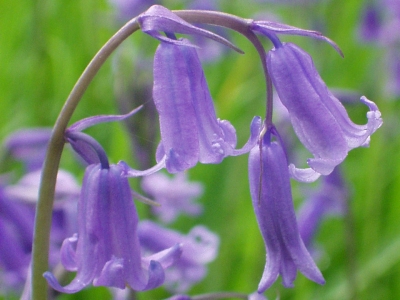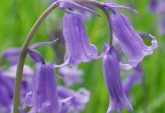 Bluebell (Endymion non-scriptus)
The Native Bluebell (Hyacinthoides non-scripta) is arguably the nation's favourite wildflower. Britain is home to half of the world's total population and the intense blue-violet haze that carpets Plas Farm's woodlands during May is an unforgettable sight. The beautiful aroma also lasts long in the memory. They are perfectly adapted to cope with the shade created by the woodland canopy above. The first shoots emerge in January, giving bluebells a valuable head start over other woodland plants. They can grow and sow seeds before the trees produce leaves, reducing space and light. However, temperatures are getting warmer, bringing spring forward by six days for every degree celsius. In other words, this 'head start' is getting smaller. Interbreeding with Spanish bluebells and the resulting hybrids is also posing a threat to our native variety. The Spanish bluebells were introduced to British gardens in the 17th century, but it wasn't until the 20th century that they escaped into the wild. As a result, a third of bluebells are either a Spanish or hybrid variety, and one in six bluebell woods contains a mixture of all three species. The carpets of bluebells at Plas Farm are the native variety.
Plas Farm's Blue and Purple Flowers
1. Bluebell Endymion non-scriptus
2. Common Forget-me-not Myosotis arvensis
3. Common Hemp Nettle Galeopsis tetrahit
4. Creeping Thistle Cirsium arvense
5. Heather Calluna vulgaris
6. Purple Crocus Crocus albiflorus
7. Selfheal Prunella vulgaris
8. Sheep's-bit Jasione montana
9. Tufted Vetch Vicia cracca
10. Woody Nightshade Solanum dulcamara
11. Devil's Bit Scabious Succisa pratensis
If you spot any blue flowers or purple wild flowers at Plas Farm during your cottage holiday, please let us know and if possible take a photograph of it.  If you are unable to identify the plant, try posting the image on one of the forums on the excellent Wild About Britain.